With a name like Contemporary Log Living you may guess that we love everything to do with contemporary granny annexe design.
Whether it's contemporary home designs, contemporary interior design or contemporary granny annexe and mobile home designs, we're constantly looking for innovative floor plans and designs to inspire the growing number of UK householders looking to downsize without compromise, free up equity and help members of their family get on the UK property ladder by either building a lodge or a granny annexe to their garden.
We've always been involved with what we like to call the "alternative property ladder" in the UK and have provided some innovative designs ourselves within the Contemporary Granny Annexe market.
So in this week's feature article we've selected 6 of the very best Contemporary Granny Annexe designs we've found that demonstrate how far granny annexe designs have come in the last couple of years.  You will see for yourself why Contemporary Granny Annexes are so popular.
*Please note that for a residential annexe,  permission from your Local Planning Authority is always necessary. This is a service we offer via our turn-key services.
1. Finnish contemporary mobile home
When we were exhibiting at the Home Building & Renovation show at the NEC in Birmingham a few years ago we were working with a company that created this brilliant contemporary mobile home which at the time turned a rather "twee" mobile home industry inside out by using the width of the building rather than the length to create a stunning contemporary mobile home or contemporary granny annexe design.
It was inspired by this Plus Villa Finnish Log Home  (original source)
This image had people stopping in their tracks at the show due to its stunning design.
People just loved the simplicity of a living space that was open plan & flooded with light.
It's also a reminder of how innovative home design is around Europe and the rest of the world compared to most of our UK houses.
But since then, we've seen a lot of great Contemporary Mobile Homes, granny annexes, and Studios showing up proving what can be done in the UK right in our own back gardens.
Spending time in the garden is one of life's great pleasures, but it needs to be a retreat where we feel secure.
Granny annexes are the perfect way to combine both. An article on Silversurfers points out the need to feel secure and safe in your garden especially as the seasons change. 
With family members close to hand and a new dual-purpose landscape between house & annexe to design & plant, it's a real hidden gem of granny annexe living.
2. Cedar lodge (a Contemporary Log Living customer)
The Contemporary Log Living CEDAR LODGE is a brilliant one bedroom granny annexe designed by our customer for his daughter who was facing University digs, travelling and student loan debt versus an annexe that would allow her to travel to & from Uni whilst venturing into independence at the same time.
Not so much a granny annexe, but more of a "graddy annexe" which we see as a growing trend for young people looking for a way to secure their own home.
It was an incredibly smart investment by Mum & Dad that will undoubtedly repay itself over and over again.
Here's the story behind this lovely contemporary garden annexe.
Granny annexes & finances can become complicated amongst family members but the rising cost of care is a growing concern. For that reason Granny annexe costs are often compared against the rising cost of Care Homes.
According to Carehome.co.uk the cost of living in a residential care home is on average £704 a week and £2816 a month. The cost of receiving nursing care in a care home is on average £888 per week, while the monthly average cost is £3552. How much you have to pay varies depending on where you live in the country.
3. The Strand from Contemporary Log Living
In 2019 we added 4 stunning new contemporary style annexes that are perfect for downsizing to the garden without compromise.
The Strand is priced at £170,000+ for what we like to call a "posh pad" at the bottom of the garden that boasts a host of high specification finishes.
It's a Residential Lodge built to British Standard 3632 which means it's comfortable for year round living and makes for a spectacular garden or granny annexe. 
Ask for more information about The Strand via our contact us page if this design suits your plot size, access & budget.
Granny Annexes & Adaptations
One of the benefits of building a garden lodge or a granny annexe in your garden is the ability to adapt it for elderly care off-plan.
Specialist elderly care and disability adaptations can be included in granny annexes and can be a crucial factor in helping people continue to live independently and comfortably.
From non-slip flooring, wet rooms, grab rails & comfort height toilets you can create a safe haven for your loved ones with ease.
4. The Hampton from Contemporary Log Living
If it is luxury granny annexe living at it's best, the Hampton is the perfect choice.
Priced upwards of £170,000 this sophisticated Contemporary Granny Annexe ooozes style and class. It's a hot favourite with visitors to our website & the show site.
With it's stunning front elevation with bi-fold doors and full height windows to the open plan living space and bedrooms you have a unique architecturally inspired design with a real "Wow!" factor.
As with all our residential mobile annexes of this type, The Hampton complies with the Caravan Act and requires a Certificate of Lawfulness to site in your back garden. 
If you are looking to downsize to a granny annexe in the future, they really don't come any better than The Hampton.
We offer this service within our turn-key service approach.
The UK's Ageing Population
According to the Office for National Statistics (ONS), there were 11.8 million residents aged 65 or over, accounting for 18% of the total population.
Caring for an ageing population requires innovative thinking now.  With house prices in Britain at their highest levels, granny annexes are bridging the gap in terms of a practical & affordable solution to many.
5. The Glass House from Contemporary Log Living
The Glass House is a stunning residential lodge-style contemporary Granny Annexe designed for large gardens with open views to enjoy.
The glass house is priced upwards of £170,000 and is perfect for waterside or countryside setting to admire from its stunning glazed frontage.
With its architecturally inspired roof design, 5 skylights and vaulted ceilings throughout who wouldn't want to downsize to this stunning mobile home annexe design.
The Glass House has a whole host of upgrades included ready for you to move in, including the furniture.
A third of homes are multi-generational
According to a recent article on ThisIsMoney.co.uk
"A third of UK homes are now multi-generational, but rather than the traditional granny flat it is now mainly due to adult children living with their parents, new research has revealed."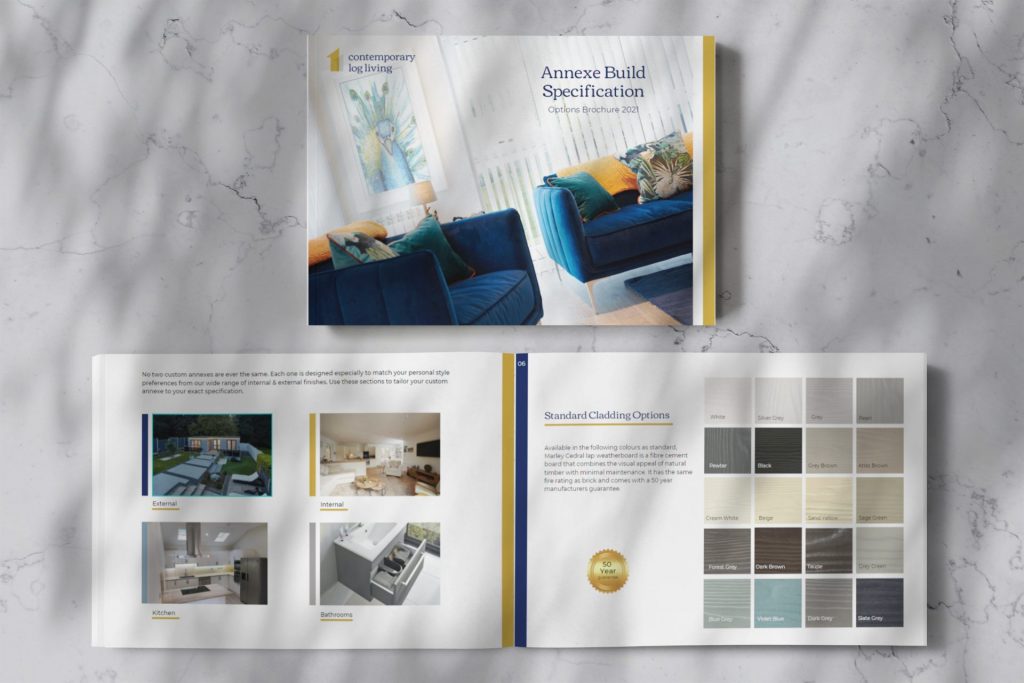 6. The Lookout from Contemporary Log Living
If you have a budget of around £200,000 in mind plus a floor plan that gives you that feeling of space that you crave in a granny annexe or lodge design, The Lookout could be the right one for you.
Pushing the boundaries of what is possible with a granny annexe or lodge design like this can only be achieved with a Certificate of Lawfulness and a large garden with good access.
With an innovative floor plan that elevates this lodge to looking and feeling more like a luxury apartment, it's one of the best examples of a contemporary granny annexe or lodge you'll find.
Whether you are looking for a large contemporary style granny annexe, a lodge that's ready to move into or the best advice of how to go about getting a Certificate of Lawfulness, we'll be more than happy to help.